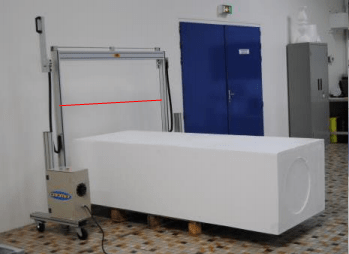 Polystyrene cutting machine
In addition to the hot wire CNC cutting machines, CROMA designs and manufactures manual hot wire polystyrene cutting systems. The range of these is quite large, from the simple cutting bow to the large cutting table with horizontal wire, the movable block slicer or the folding table with vertical wire to work onsite. We have developed all kinds of equipment so we can answer any need you may have.
Coupled to a CNC machine, our manual polystyrene cutting machines can slit a full block before you can display it on the machine for example (thanks to our movable block slicer or our table with horizontal wire ). This is the perfect way to optimize your raw material and ease your operators work. The smaller manual tools, such as the thermocutter, can also be the solution for the finishing or grooving and carving bigger parts. Discover our manual systems below:
More affordable than the CNC cutting machines, with our manual systems you can achieve simple and clean cuts on thermofuse foams, expanded or extruded polystyrene, or even process some low density plastics or thin other material.
Those manual systems are much appreciated by craftsmen, sculptors or builders working on site. Indeed, bows, thermocutter or folding tables are very convenient to be carried and brought from one work area to another. Small adjustments or simple cuts can be processed in the final location without no noise, dust or danger and ensuring a high quality cut.
Artists are also very satisfied with our hand tools for making sculptures or theater sets. The frameless wire tool can be adjusted to their needs so that they can follow their idea freely and work in a total safety way. The final result with our polystyrene cutting machine is neat and meets their expectations.
Just like our CNC machines, these tools are manufactured in our facility and comply with our quality charter.