Design, manufacturing and development in France
CROMA was founded in 1984, and became an international pioneer in the field of the hot wire cutting technology.
The experience and the versatility of its team allow the company to be a key player on many markets, and on various processes. On top of the hot wire technology, ranging from a manual foam cutter to a large and automated CNC machine, CROMA offers today other equipments for different purposes : the polystyrene coating and recycling in particular.
The robustness and reliability of the machines, the engineering team and the trilingual sales department are for our customers a guarantee of quality, safety and durability.
Since its inception, the company has experienced a steady growth, giving it a solid financial structure.
Today, more than 2000 CROMA cutting machines
are being used
around the world, in more than 70 different countries !
IN EUROPE
IN AFRICA
IN OCEANIA
IN AFRICA
IN NORTH AMERICA
IN SOUTH AMERICA
CROMA machines worldwide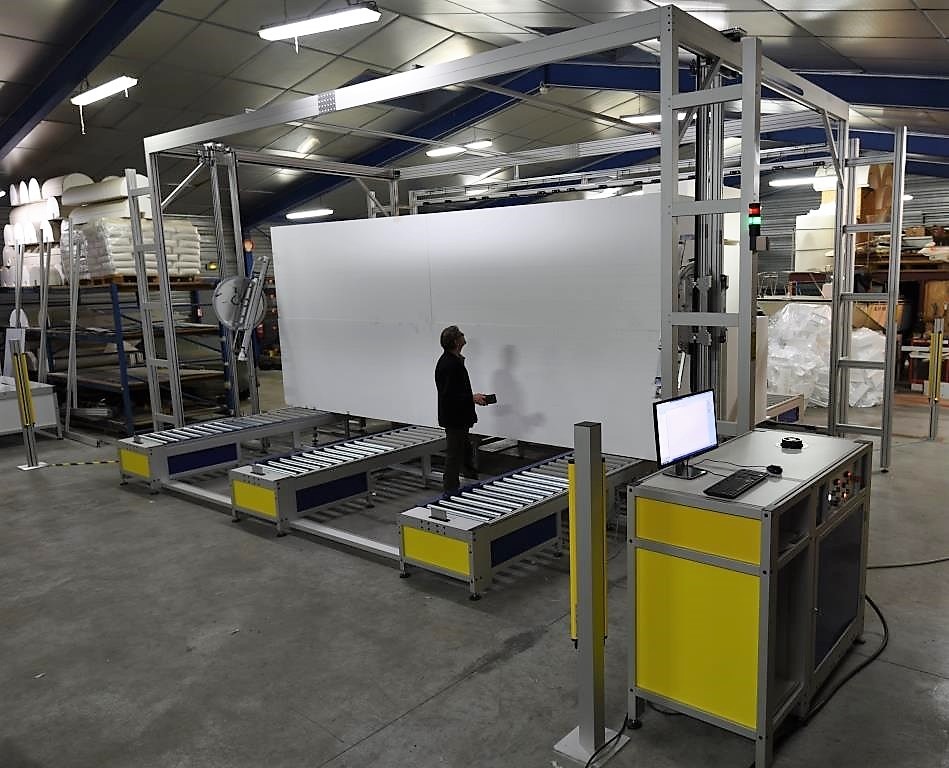 EXPERTISE AND QUALITY
The close relationships maintained with our customers and the other market players provide CROMA with a long and unique experience in working with plastics.
This expertise allows our teams to give you the best advice regarding the use of the machines and the way of working with your materials in general (painting, gluing, coating…).
Our customers work with CROMA not only to buy a foam cutter, but also years of experience.
CROMA also ensures the durability of its equipment: since the first machine built, almost all the spare parts can still be supplied.
Customers are therefore assured to operate their hot wire foam cutter with a low maintenance and for many years, while benefiting from the improvements, software updates and options that CROMA regularly develops.
Many machines older than 25 years are still in operation with our customers, even though we didn't have to carry out any specific maintenance on them.
CROMA IN A FEW DATES
CROMA has always sought and obtained the best possible quality, by equipping itself with the best tools and by using the best components for its machines, all made in-house. The innovations on the software and on the machines came years after years, to always keep the customer satisfaction as a company priority.
Therefore, the after sales-service and the update of our foam cutter software are also provided on our old machines.
First hot wire cutting machine (CANON X07) made by Jacques Crouet, one of the founders of CROMA
European and American patent
5 machines sold in Europe
Development of a cutting activity, while keeping the production of new machines
Creation of CROMA North America (CNA)
First INDUS series machine With 10 cutting wires, each one 5 meters long
New 3000 m² plant facility in Vendée (West of France)
New facility in Miami, Florida
Custom Industrial Machine for Germany (conveyors, 3 turntables...)
Launching of the 5 Axis UNIVERSAL series best value for money on the hot wire market
Launching of the UNIVERSAL HD
1000th machine sold in the world. Croma machines are installed over 36 countries at that time.
New FAOMA software A very creative, fast and user friendly Software, to draw or import 2D files ( DXF & PLT) and 3D files ( STL)
New cutting module CROMA OUTPUT compatible Windows - 32, 64 bits
Launching of the 5 Axis UNIVERSAL HD +
Launching of the Strato series
Launching of the new electronic controller with 8 axis and micro step
New dynamics New identity, new website