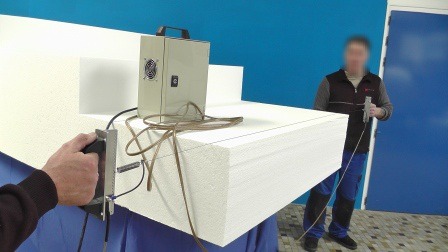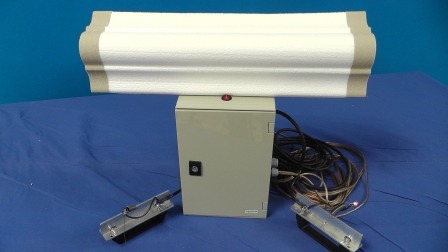 Foam cutting tools : flexible and easy
Another exclusive to CROMA are the hotwire frameless foam cutting tools.
Our supply consists of two handles between which is fixed a wire Ø 0.8 mm from 200 mm long to 1500 mm long (greater dimensions on request). Used alone or by two operators when processing a full block of foam or polystyrene, the tool can be used for simple cutouts or more sophisticated creations, possibly using a template or following a path drawn on the material.
The button on the handle ensures the safety so that no power goes through the wire until the operator is ready to work. The thickness of the wire also guarantees the robustness of these foam cutting tools.
Connected to your local power supply with a 2.5m long cable, you will adjust the heat to the length of the wire on the electric controller. From the controller to each handle is another 5m long cable for greater flexibility in your movements.
Through our 35 years of experience and work hand in hand with our customers, we have developed the equipment they needed to meet their foam cutting tools needs. "Sometimes I just need a 20 cm long wire for small and precise cuts. But sometimes I need a 1.5 m long wire which I operate with my colleague to cut a full block. And sometimes I need to carve details into the foam."
This is how the frameless tool was created. We needed to provide our customers with a safe and convenient system that would replace the sometimes dangerous homemade hot wire they were using.
Just like our other systems, the hot wire technology will give you clean dust-free cuts, without no noise or effort and leave a perfect quality surface.
Add the shapeable wire tool option to your frameless wire tool and you can start carving shapes in the foam as you wish. The two handles will then be coupled so that you can display a 2 x 0.5mm flat wire previously shaped to your need. Then you can achieve almost anything.