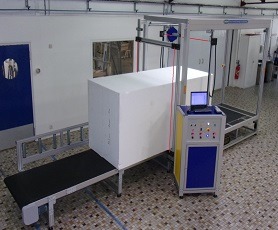 Cutting boards or cubes from a full block of EPS
Many of our customers aim at producing boards from full blocks of raw material, in large series and with different thicknesses. These blocks can reach up to 6 meters long and 1.3 meters wide, therefore CROMA commits to adapt its machinery to your needs.
According to our customer volume forecast, CROMA offers slicing & dicing machines from the standard manual systems up to the full production lines, including conveying systems, multi-wire harp, automation and even CNC machines within the process line.
Below are a few examples of options and adaptations that were included by CROMA to the machines made for these applications:
Fully automated conveying cutting system
Machines with 40 horizontal cutting wires
Machine with 10 vertical wires
CNC horizontal cutting system, to adjust the EPS board length as well as their width
Two synchronized conveyors, to double the productivity while allowing to work on two full blocks at once
CROMA can design and develop any custom-made slicing & dicing system, making it the perfect match for your process.
Tell us your project and CROMA will be glad to study this with you.